Precision Medicine Research Fellowships at FIMR
Home ›
Precision Medicine Research Fellowships at FIMR
The University of Notre Dame and Feinstein Institute for Medical Research (FIMR) Precision Medicine Research Fellowships are competitive awards given annually to highly qualified undergraduate and graduate students from Notre Dame that enable them to spend eight weeks in summer residence conducting laboratory and clinical research at the Feinstein Institute in Manhasset, New York.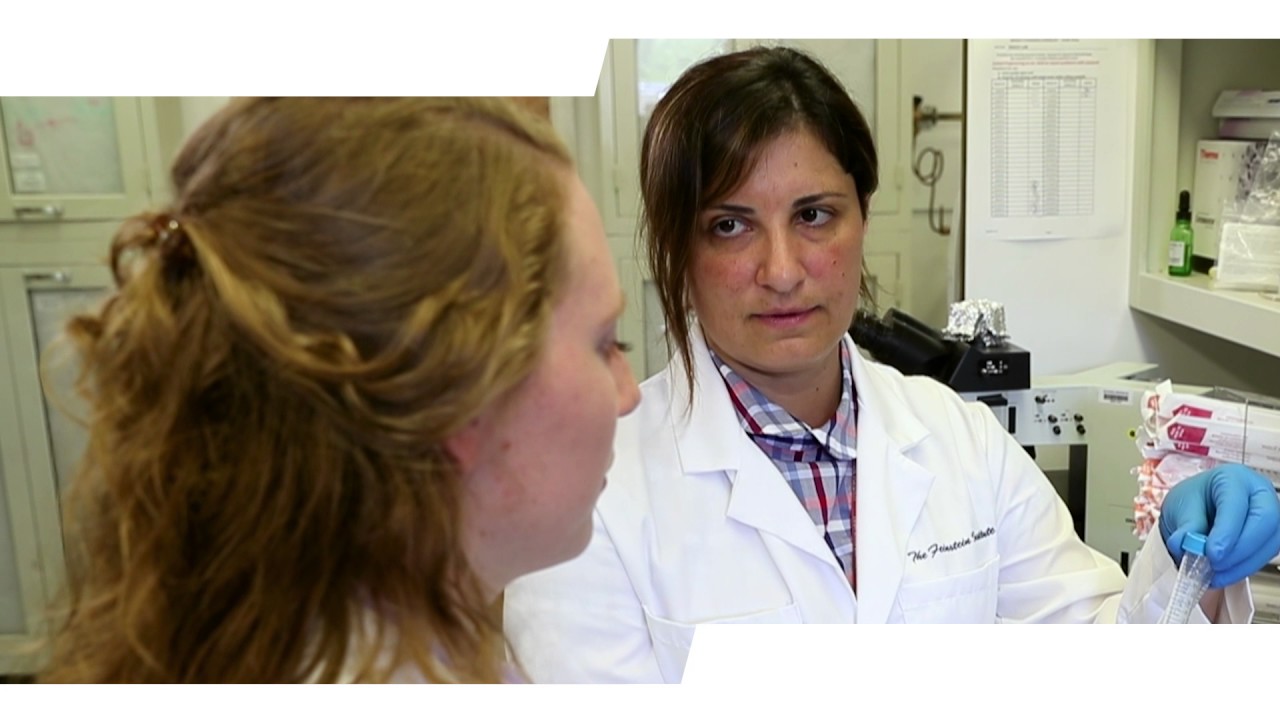 It is anticipated that four summer fellowships will be awarded. The fellowships are concurrent with FIMR's existing visiting scholars program, which takes place from approximately June 1 to July 31 each year. Only students enrolled in the University of Notre Dame through the end of the fellowship period are eligible to apply.
The Feinstein Institute, which is part of the 21-hospital Northwell Health system, recruits more than 15,000 patients each year into over 2,100 studies. These fellowships, sponsored by Institute for Precision Health, afford Notre Dame students an opportunity to experience hands-on research in a world-class setting.
Each student applies to work in a specific lab at FIMR and, thus, must understand the interests and capabilities of participating labs before submitting an application. Please refer to ND Precision Medicine Fellowship Brochure 2024.
Deadline
The application window is Novemeber 1, 2023 - January 19, 2024. Please follow the link below to complete the application.
How to Apply
Precision Medicine - Feinstein Institute Fellowship Application (DO NOT fill out or submit the online application at the Feinstein Institute's website for their own internships--those will not be accepted by this program). The application requires a CV, transcripts, faculty recommendation letter, and a list of the top three FIMR labs each student would like to work in.
Requirements of awardees:
All students who receive an award must complete and sign all necessary FIMR documents, including a Visiting Scholar Agreement and Questionnaire, before they can start their fellowship. In doing so, they agree to comply with all of the institute's policies related to research procedures and conduct, safety, intellectual property, confidentiality, federal regulations, etc.
Each graduate student will need to have a signed statement of approval from their Advisor in regards to their eight weeks off campus.
Each undergraduate recipient must sign a University of Notre Dame Undergraduate Research Opportunity Waiver, Release, and Indemnification Agreement for work to be conducted off-campus.
All awardees, graduate and undergraduate, must sign an FIMR/ND Precision Medicine Research Fellowship Agreement, which includes a commitment to submit a written final report on their research and fellowship experience by the end of the summer, as well as three photos of the student engaged in research-related activities.
Program Details
Undergraduate Students: Each undergraduate student receives a total stipend of $5,600 ($700/week for eight weeks) to cover daily living expenses.
Graduate Students: Awards to graduate students are treated as paid internships and equal the current summer stipend rate for graduate students or $5,600 for the eight week period, whichever is greater.
For all students, the cost of transportation to and from FIMR and their home or campus is covered (within reason and subject to approval). The Feinstein Institute provides co-ed apartment housing on the institute's campus, which is a 30-minute train ride from New York City, at no cost to the fellows.
Questions
Please direct questions to Corrine Hornbeck at 631-7385 or chornbec@nd.edu.
Previous Awardees

2022

Christopher Aiello
Exploration of neuropsychiatric manifestation of Lupus
Mentor: Dr. Betty Diamond
Noor Benham
Mentor: Dr. Timir Datta-Chaudhuri
Meng Chen
Built regression model to predict therapeutic intervention maternal intrapartum fever
Mentor: Dr. Theodoros Zanos
Nilay Kumar
Training DeepLabCut models for tracking mouse activity to study correlations between vagus nerve activity and mouse locomotion
Mentor: Dr. Theodoros Zanos

2021

Patricia Curtian
Exploration of inflammation biomarkers post cardiac arrest
Mentor: Dr. Lance Becker
Venkata Varunbabu Mannan
Quantification of unmyelinated nerve fibers in election microscopy images using deep learning
Mentor: Dr. Theodoros Zanos
Dharasan Soundarrajan
Inhibition of IRF5 during M1 macrophage polarization in osteoarthritis and phagocytosis
Mentor: Dr. Betsy Barnes
Jing Tong
Data analytics, statistics, and modeling of stroke and lung cancer treatments for healthcare optimization
Mentor: Pina Sanelli

2019

James Bathon
Exploration of the role of monocyte to macrophage polarization in the treatment of inflammation
Mentor: Dr. Betty Diamond
Gail Fernandes
Exploration of the relationship between Sepsis and the downregulation of Red Blood Cell production
Mentor: Dr. Lionel Blanc
Isabel Snee
Redefinition of blue light parameters for inducing immune response
Mentor: Dr. Kevin Tracey

2018

Anne Iverson
Development of blood based diagnostic tools used to determine the length of cardiac arrest
Mentor: Dr. Lance Becker
Siena Mantooth
Development of therapeutics for Systemic Lupus Erythematosus
Mentor: Dr. Betsy Barnes
Oyekola Oyekola
Developed a treatment for pulmonary arterial hypertension using Vagus nerve stimulation
Mentor: Dr. Stayros Zaros
Chase Soukup
Exploration of the interaction between the immune system and the peripheral nervous system
Mentor: Dr. Kevin Tracey

2017

Christopher Ebsch
Development of tools to study both noninvasive and invasive stimulation of the Vagus nerve
Mentor: Chad Bouton
Ju Young Kim
Development of a method to visualize mouse brain cells using fluorescent dye
Mentor: Dr. Patricio Huerta
Esther Lee
Development of a method to study the interaction between Vagus nerve stimulation and inflammation
Mentor: Dr. Kevin Tracey
James Shuttleworth
Development of a diagnostic tool to determine the length of time a patient has been in cardiac arrest
Mentor: Dr. Lance Becker

2016

Anne Grisoli
Development of a model to study the influence of the nervous system on antigen movement through the lymphatic system
Mentor: Dr. Kevin Tracy
Richard Felli
Calibration of data from brain abnormalities that occur during sepsis in mice
Mentor: Dr. Patricio Huerta
Kate Ludwig
Project Title: Optimization of an assay for the phosphorylation of a protein involved in Lupus and breast cancer tumor development
Mentor: Dr. Betsy Barnes
2016: Steven Marczak
Project Title: Development of a portable sensor for fluorescent biomarkers related to cardiac arrest
Mentor: Dr. Lance Burton